Four Wheel 4WD Laser Alignment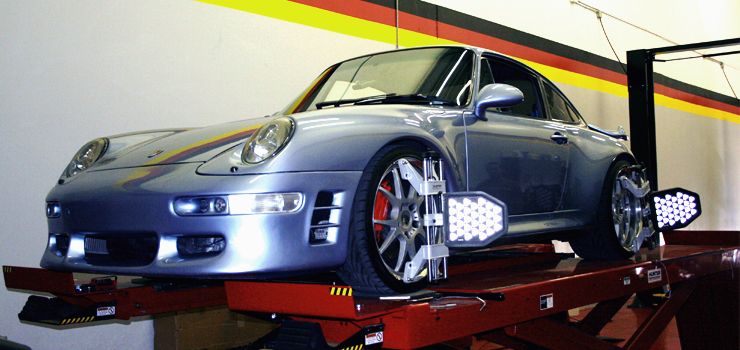 Jasmine PorschaLink UK can provide a Four Wheel Laser Alignment for your Porsche. Four Wheel Laser Alignment measures a minimum of 12 angles and compares them to the alignment data specified by Porsche for your particular model. Four Wheel Laser Alignment allows adjustments to individual wheels which ensure the steering wheel is set straight. Where necessary, further adjustments can be made to the camber, caster and other angles in order to provide optimum performance. When the Four Wheel Laser Alignment is carried out, a print out is produced similar to the one below showing Before and After: -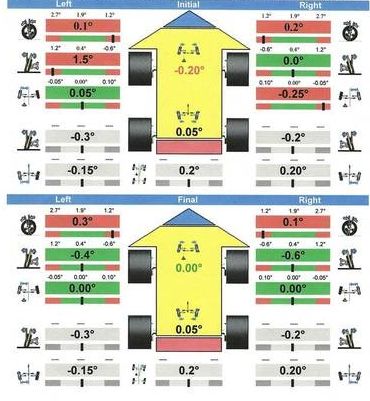 A Four Wheel Laser Alignment is recommended when: -
Uneven tyre wear is noticed on either the inner or outer edges of one or more tyres. If you cannot see the tyre wear, you can run your hand over the tyres, if any smooth spots are felt this would suggest uneven tyre wear.
Car is pulling to the left or the right.
Out of alignment steering wheel.
In the event of any of the following, a Four Wheel Laser Alignment would be required: -
Tyre replacement due to uneven wear.
Replacement of Steering or Suspension parts.
If the vehicle has been in an Accident or Collision.
The time required to carry out a Four Wheel Laser Alignment is 1½ hours and would cost £120.00 + VAT. If you wish to book online for a Four Wheel Laser Alignment, please complete the form below: -

All prices include fitting / labour and parts where applicable. Prices exclude VAT @ 20%.
If you require any help with your Four Wheel Laser Alignment enquiry please call us on 01 282 697171 or e-mail info@jasmine-porschalink.co.uk for further information.