964 RS Porsche Replica Projects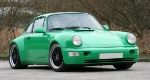 964RS REPLICA PROJECTS
Ever thought you couldn't afford a Porsche 964RS? Well now you can... Jasmine PorschaLink UK has developed a 964RS Replica based on a 964 Carrera 2. The car is completely stripped down to bare metal and painted to your chosen colour. 964RS suspension, brakes and interior are fitted to replicate the original. Engine is rebuilt and mapped to approx. 290 BHP.

You now have virtually a brand new car at half the cost of a Genuine 964RS. Stuart Gallagher - Editor of GT Purely Porsche described it as the best 964RS he has ever driven - he should know !!

Below is a showcase of several other 964 RS Replica Projects completed by Jasmine PorschaLink UK including a special edition wide bodied version.

964 RS REPLICA PROJECT FEATURED IN .......
VIPER GREEN



FLAT BLACK
PEPPERMINT GREEN




General Build Specification for Jasmine PorschaLink UK's Porsche 964RS Replica
Note this can be customised to your individual requirements/taste.


BODY SHELL

· 964 C2 Coupe to be purchased by ourselves.

· Based on a 964 Carrera 2 body. Car completely stripped, engine/gearbox
removed, windows taken out and paint removed back to bare metal.

· Rear half roll cage bolted in.

PANELS
All standard 964C2 panels remain except for: -
· Rear 964RS centre bumper fitted.
· 964RS front bumper fitted.
· 964RS cup mirrors fitted with electrical adjustment.
· Fog lights removed in front bumper and replaced by plastic moulded air
vents.
· Carrera RS badge on the rear.
PAINTING
· All panels and body shell painted to customers colour.
· Roll cage to be painted black or body colour.
LIGHTING
· 964 clear front light kit and clear side repeators to be fitted.
· New rear lights and centre reflector to be fitted.
INTERIOR
· Original head lining and interior lights to be retained.
· Lightweight 964RS door panels with blue or red door pull straps. Original
electric window switches and mechanism remain.
· All interior carpeting and rear quarter panels removed and replaced with
lightweight carpeting as per 964RS specification.
· Original seats removed and replaced with Recaro seats. Seat adjustment
rails fore and aft mechanism retained.
· Centre console and handbrake retained.
· Alcantera Momo steering wheel fitted instead of standard item.
· 4 point full harness seat belts fitted.
· New overmats.
· Handbrake stainless steel with Porsche logo.
· Gearlever and gaiter standard.
BRAKES
· 965 Turbo (big red) braking system fitted; front and rear.
· Crossdrilled discs fitted front and rear; standard 965 Turbo at the front,
custom ordered 964RS at the rear.
· Castrol high temperature braking fluid.
· EBC Red Pads fitted (front and rear).
· Stainless steel braided brake hoses.
SUSPENSION

Suspension completely changed to RS specification, i.e.: -

FRONT
· Shock absorbers Bilstein Cup items valved to Jasmine specification.
· 964RS springs and top mounts fitted.
· Front 964RS anti roll bar and links fitted.
· Strut brace in luggage compartment stainless steel.
REAR
· Shock absorbers Bilstein to 964RS specification.
· 964RS springs and top mounts fitted.
· Rear 964RS anti roll bar and links fitted.
ENGINE
· Completely stripped.
· Crankshaft and rods balanced and polished.
· Bottom end reassembled with new shells and rings.
· Heads stripped, cleaned, polished, gas flowed. New valve guides, chains
and head studs.
· New oil pump fitted.
· RS flywheel and clutch assembly fitted.
· Engine/gearbox reinstalled.
· New filters and plugs and all hoses.
· Engine remapped to produce approx 280-290 BHP.
· Centre exhaust box replaced by straight through system.
GEARBOX
· Gearing remains standard.
WHEELS
· Replica 3.6 Turbo Three Piece Speedline Wheels
· 8"x18" Front
· 9½"x18" Rear
TYRES
· Pirelli Pzero Rosso N4 Tyres
· 225/40ZR18 Front
· 265/35ZR18 Rear


Please call us on 01 282 697171 or e-mail
info@jasmine-porschalink.co.uk
for further information on any of our Porsche 964RS Replicas or if you are interested in Jasmine PorschaLink UK creating one for you.